FRENCH B2 LEVEL is an Upper-intermediate level course. Our Teacher focuses on all four aspects of Language (Listening, Speaking, Writing, Reading). By the End of LEVEL B2 you will be able to do the following :
Can understand most television news and news broadcasts.
Can understand fairly long lectures and speeches, and even follow complex argumentation if the subject is relatively familiar.
Can read articles and reports on a variety of issues.
Can enjoy watching movies.
Can understand contemporary prose texts.
Can communicate with a native speaker spontaneously and fluently to be able to have an efficient interaction.
Can actively participate in a conversation about familiar situations.
Can express and defend own point of view.
Can present ideas in a detailed and well-explained manner.
Can talk about the pros and cons of any subject matter and take a standpoint.
Can write clear, detailed texts on a wide range of topics.
Can write an essay or report conveying ideas for or against a given topic.
Can write letters to accept and propose events and explain personal experiences.
Easily appear for DELF B2 Exam.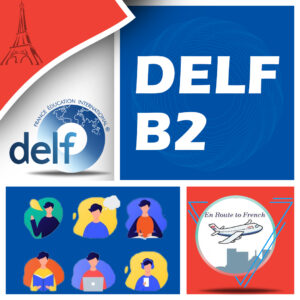 B2.1 Level
2.5 Months
₹15500 / $200 / €205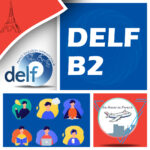 24X7 Support by Teacher
Thrice a Week Classes
Individual Attention
Unlimited free revision sessions
Group of maximum 5 Students
Focused on LSRW(Listening, Speaking, Reading, Writing)
Lifetime access to books, audios, videos, recorded sessions and study material over Google drive
Request Demo
B2.2 Level
2.5 Months
₹15500 / $200 / €205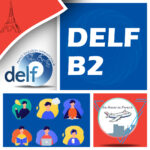 24X7 Support by Teacher
Thrice a Week Classes
Individual Attention
Unlimited free revision sessions
Group of maximum 5 Students
Focused on LSRW(Listening, Speaking, Reading, Writing)
Lifetime access to books, audios, videos, recorded sessions and study material over Google drive
Request Demo