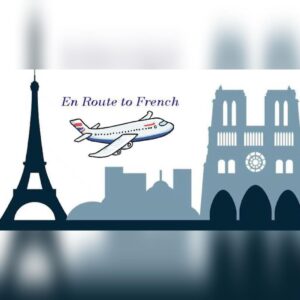 Learning French Made Easy for Everyone.!!!
French is one of the most exotic, mellifluous, and widely spoken languages in the world. French language courses have witnessed a considerable increase in number as French is the most popular foreign language all over the world. There are myriads of benefits in learning French. While there are multiple reasons to learn French, the main attraction is language jobs and career options for French learners.
En route to French is one of the most trusted French language Institutes that offer unmatched quality classes for the French language to learners worldwide. With its highly proficient trained faculty of Ph.D. Scholars, Translators, Corporate Trainers, and DELF Examiners who have a teaching experience of more than 12 years, this institute provides Basic to Pro level courses for the French language.
Moreover, we aim to make proficient language leaders both in India and abroad by providing a high-quality language learning experience to everyone across the world through online mode.
Furthermore, our team of highly proficient trainers focuses primarily on teaching through a lot of activities, music, and quizzes to ensure learning French a fun and rewarding experience for all. We believe learning a language is not just about learning traditional grammar rather it is a wholesome intellectual experience that involves learning all the aspects of speaking, listening, writing, and reading. Hence, we ensure a fun learning and activities stimulating environment which aims to maximize the confidence of the learners and put the language into practice. The upshot is that our students are not only learning the French language but are also learning about a new culture to blend the two while learning to speak French.
Undoubtedly, we are a one-stop destination for students, corporate professionals, and anyone who wants to learn the French language comprehensively to polish their communication skills. Not just this, we prepare candidates for job interviews and assist in achieving good scores in proficiency tests- DELF, DALF, TCF, and TEF. En Route to French is the ultimate destination to build a career in the same field or simply for the joy of learning.
Over the years we have successfully trained 1000+ students who have passed with flying colours in their DELF, DALF, TEF, University, or School Exams and prepared them to survive in Francophone countries.
Happy Learning!!